I don't even know what they're doing inside a tournament called Euro 2016, but that's a tale for another day. Today, we want to talk about Russia's indiscipline and how they have now been handed a conditional disqualification.
According to the BBC, Russia will be disqualified from Euro 2016 if there is further crowd trouble at their remaining tournament matches.
UEFA, European football's governing body, has given Russia a suspended disqualification and a 150,000 euro (£119,000) fine for disorder at the game against England in Marseille. The country was also charged for fan racism and lighting fireworks at the game.
Groups of Russia fans are already being deported from France after repeated scenes of violence at Euro 2016.
The suspended disqualification and fine relate only to incidents that happened inside the stadium. The decision is open to appeal.
However sports minister and Russian Football Union president Vitaly Mutko said Russia will comply with Uefa's decision, adding: "What other position can there be?"
French police blamed 150 "well-trained" Russian hooligans for clashes before England played Russia on Saturday. Six England fans were jailed on Monday for their roles in the disorder.
Thirty-five people have been injured – most of them England fans and four seriously – while a total of 20 people were arrested after three days of disorder in Marseille.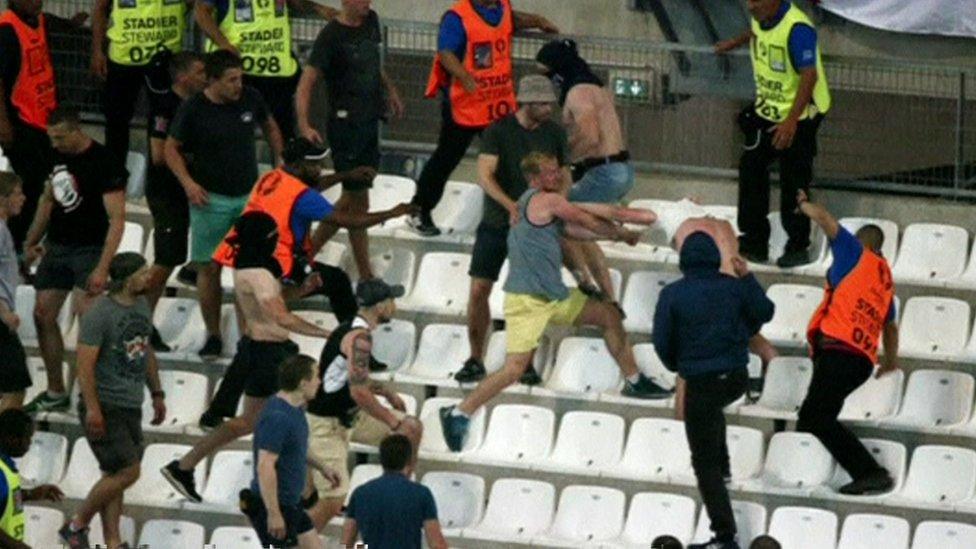 Alcohol, football, a propensity for violence and a determination to cause trouble does not a good combination make. I think I'll just sit in my house and watch the games from here, thank you very much. People out there breaking heads!!
Get more stuff like this

in your inbox
Subscribe to our mailing list and get interesting stuff and updates to your email inbox.
Thank you for subscribing.
Something went wrong.